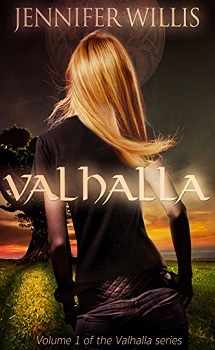 Valhalla by Jennifer Willis
In present-day Portland, the Norse gods are alive and well, and hiding in plain sight: Odin is a high school principal, blustering Thor is about to lose his job as a photocopier repairman, and the Norns are operating a psychic hotline and they and their kin are on the hunt for the newly reincarnated World Tree as they try to prevent Ragnarok.
At the same time, sixteen-year-old Sally Dahl is casting rune spells to bring about a better, happier planet, but she instead triggers the return of the legendary Berserker warriors—and their bottomless junk food cravings. When Sally finds herself the victim of her own magick, she inadvertently teams up with a power-grabbing minor deity, Managarm, who wants to capture the Tree for himself and assert his dominion over all.
Can Odin rely on a new generation of Vikings—including a marching band and a biker gang—for help? Can Sally fix her magickal mistakes in time to thwart Managarm's plan—before the Berserkers eat Voodoo Doughnuts out of business?