Hell has been unleashed into the world of men, we just don't know it yet. One man has unlocked the doors separating Earth from Hell, and now humanity will pay the ultimate price.
Unless Jacob Hope can save them.
The scars of the past rarely fade, but Jake has managed to heal many of his, knowing that to continue on his crusade he must enter the final battle as more than just a man, he needs to be a leader, a figurehead for all mankind.
Having managed a surprise victory over the immortal Abaddon, Jake sets forth to thwart the plans of the Fallen. His search leads him through exotic locations in a hunt for vital information to aid him in the final battle.
And yet information might prove to be his greatest enemy.
Dragged into Hell, Jake is confronted by Satan, who reveals a secret which devastates all Jake holds to be true. As Jake begins to lose control of the ever-darkening power contained within him, his confidence frays and his search for answers becomes more and more desperate.The Lord of Hell has claimed him as his son: The Antichrist.
Sins Of The Father
by Luke Romyn
Preview this book for free
Click cover to start reading now
Still don't own a Kindle? Buy one now from Amazon.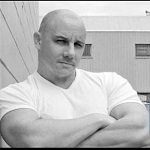 Luke Romyn has gone on to become a USA Today best selling author and is now one of the most popular indie authors in the ever-growing ebook market. He personally completes everything from cover art to final formatting, working tirelessly with editors to refine the best stories possible for his readers. The results are international bestsellers you're certain to love diving into. View full profile