Hell has come to Earth. The planet is a charnel house, where man and demon clash on a daily basis, and humanity is swiftly losing. Is all hope lost?
Jake trudges through the hellish mire, his ever-faithful lieutenants in tow, ready to sacrifice themselves in order to close off the gates to Hell. But are they too late? Only a few of the twelve gates have been found, and time is ticking down until the end of all things.
Albert Pointreid commands hordes of fallen angels and demonic creations, along with armies of deluded mortals, and behind them Lucifer's legions gnash and snarl, yearning for the ultimate clash which will decide the fate of all things ethereal. Yet those we've always thought watched over us from on high stand aside and do nothing.
In this dramatic conclusion to The Legacy Chronicles, Jake must become more than just a man. Yet in order to succeed he must traverse through the one place he hoped to never see again. The bowels of the universe. Hell.
Power Of Hope
by Luke Romyn
Preview this book for free
Click cover to start reading now
Still don't own a Kindle? Buy one now from Amazon.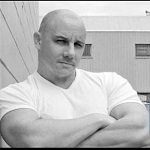 Luke Romyn has gone on to become a USA Today best selling author and is now one of the most popular indie authors in the ever-growing ebook market. He personally completes everything from cover art to final formatting, working tirelessly with editors to refine the best stories possible for his readers. The results are international bestsellers you're certain to love diving into. View full profile