Karen is a Dentist who graduated from Otago University in 1987. She moved to Nelson in 1988, and married a local farmer/ contractor and had two daughters and a son.
Karen's love of reading and stories from a young age has led her into creative writing.She studied with the New Zealand Institute of Business studies doing the Create your First Novel Course. "The terrible and great year of Molly Evan's" is her debut novel.
She also has a part time health and wellness business with Isagenix and she loves helping people to transform their lives. She has more recently built a container house on her farm in the Richmond Hills and she loves to sit and enjoy the amazing sea view.
Karen became a Christian at the age of 21 and with her husband attends the Richmond New Life Church. She loves to see the healing power of Jesus at work in people's lives.
Luke Romyn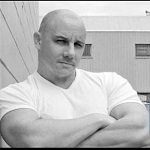 Luke Romyn has gone on to become a USA Today best selling author and is now one of the most popular indie authors in the ever-growing ebook market. He personally completes everything from cover art to final formatting, working tireless...more