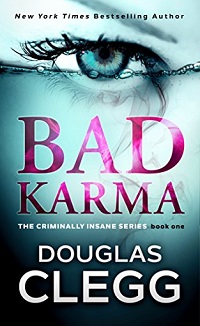 Bad Karma by Douglas Clegg
She's the most dangerous inmate in the hospital for the criminally insane…and she just broke out.
When Trey Campbell takes his family to Catalina Island, his escaped patient leaves a trail of bodies behind as she hunts for her one true love – from a previous life.
A gripping psychological thriller full of page-turning suspense and mind-bending horror for fans of James Patterson, Karin Slaughter, and Robert Bryndza.